I grew up in Oregon... land of trees and small cities. I remember watching TV and movies as a kid and dreaming of "Orange County" and "The OC"... and the ever magical Disneyland! When I was 15 we took a family vacation/road trip and I got to meet Micky Mouse for the first time. And it really was magical... even for a 15 year-old. When we moved here, I wasn't convinced that I would like living in this Southern California community, but as the years have passed (I've been here 8 years!!!) I have found that it is a great place to live. Especially now that I am a photographer, the community of professionals that is being built in the OC is amazing!
Last night I had to opportunity to attend the 3rd OC Smugmug get together, hosted by
Jasmine Star
. I know how crazy these things are, so a couple of hours before the event, I texted Jasmine:
"Just wanted to see if there's anything I can do to help tonight? Set up... or whatever you need. Let me know :)"
Her response was
"Thanks love! It looks like everything is taken care of. See you soon"
. So my mom and I headed to the meeting an hour and a half early (expecting traffic and lots of people trying to get seats). We arrived with very little traffic and only a few people milling around inside.
Not long after, a very put-together Jasmine came walking through the door... she greeted me with a hug and a request (which she made very clear that I could turn down) to run the name tag table.
I spent the next hour and a half convincing people to put name tags on. Most people were cooperative... and some didn't even have to be told... but then, there was
[b]ecker
. He was the speaker for the night, and even though we'd never officially met, I knew him all too well from his blog (isn't it amazing how it seems you can actually KNOW a person, just by reading their blog???).
I asked if he'd like a name tag and he said there are two things he does not like: name tags, and authority. I promptly replied with,
"so if someone tells you to wear a name tag, you're in big trouble"
and walked back to the table. After several attempts, I finally convinced him that
"everyone is doing it"
and he filled out a name tag with a simple "[b]". I figured it was better than nothing, and secretly felt like I'd won a small war. But then, when he got up to speak, I noticed the nametag had somehow made it's way to his water cup. Oh well, it was a valient attempt.
As Jasmine introduced him, by reading an old blog about her first meeting with him and how intimidated she was... I felt a small pang of familiarity. I remember my first meeting with Jasmine and how nervous and totally out of my comfort zone I was. Here is this amazingly talented, superstar of a wedding photographer... and she is about to talk to ME??? And not only talk, but
TAKE MY PICTURE
??? I was nervous for weeks, and when the actual meeting came, I tried to hide my insecurities, but I'm sure she saw right through them.
Now... almost a year later, I am so blessed to call Jasmine a friend. I have been encouraged so many times by her, and I am constantly blown away by her generosity and willingness to pour into photographers of all levels. Hearing her read that old blog about meeting [b]ecker for the first time was surreal... because Jasmine was my [b]ecker.
Jasmine, thank you so much for all you do and for the heart you do it with. You are truely beautiful inside and out!
Here are a few pictures from last nights meeting (from Jasmine's blog... because I was handing out nametags and didn't take any myself).
Some of the awesome treats provided by photographers.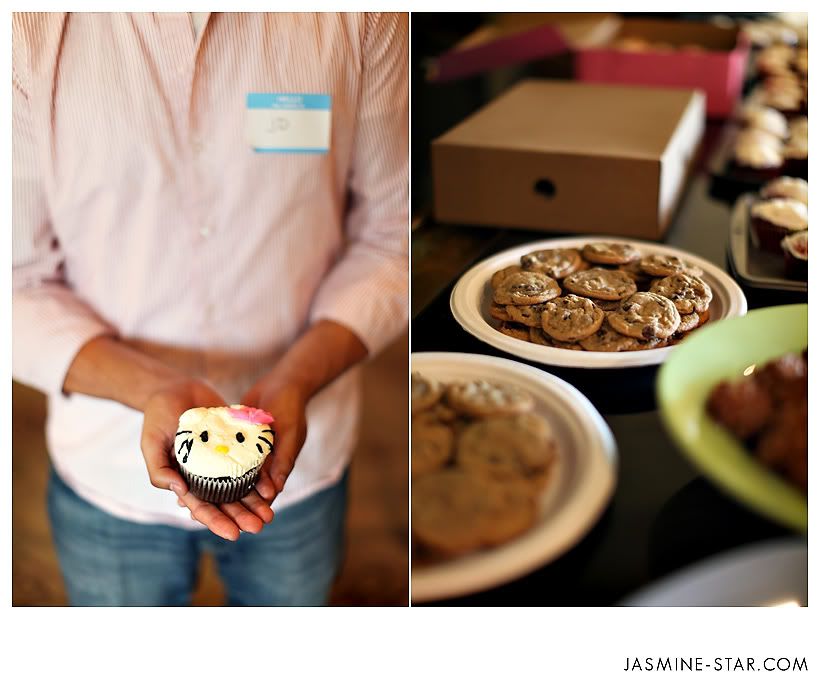 Baldy from Smugmug.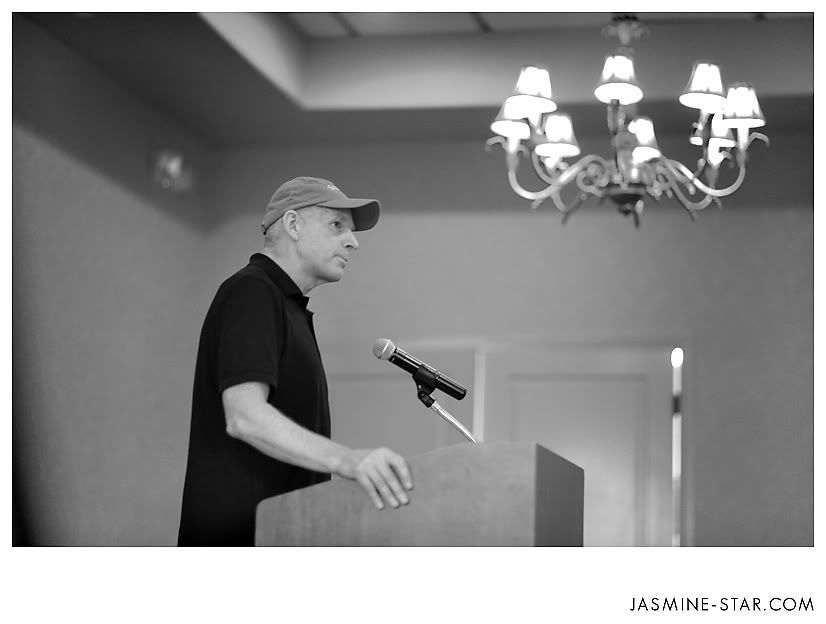 Jasmine reading the old blog entry off her iphone.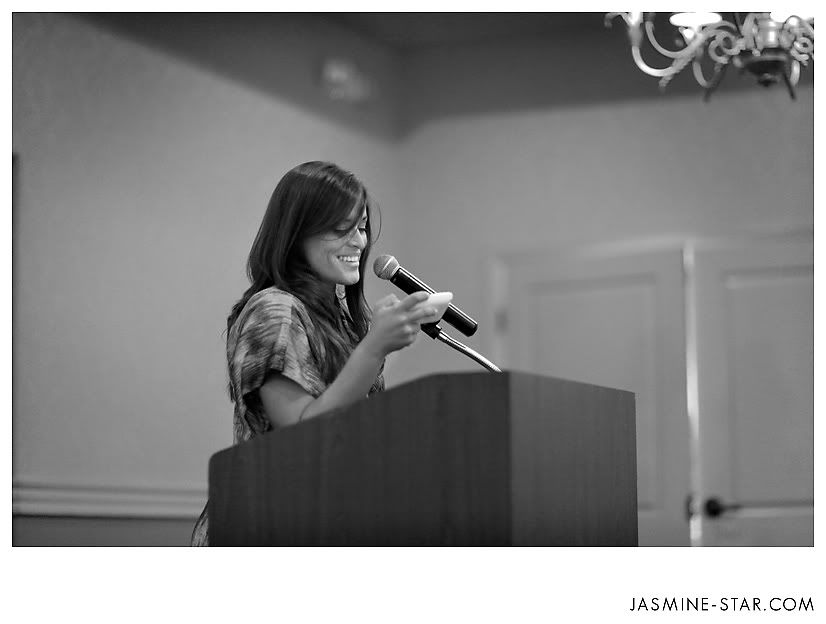 [b]ecker and Jas both got a little emotional.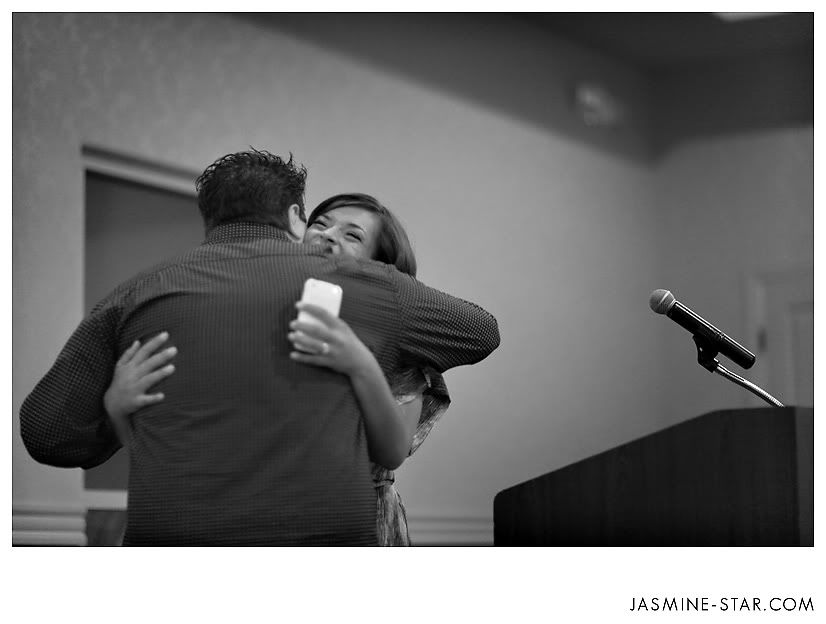 The crowded room... 250 photogs came! How awesome is that???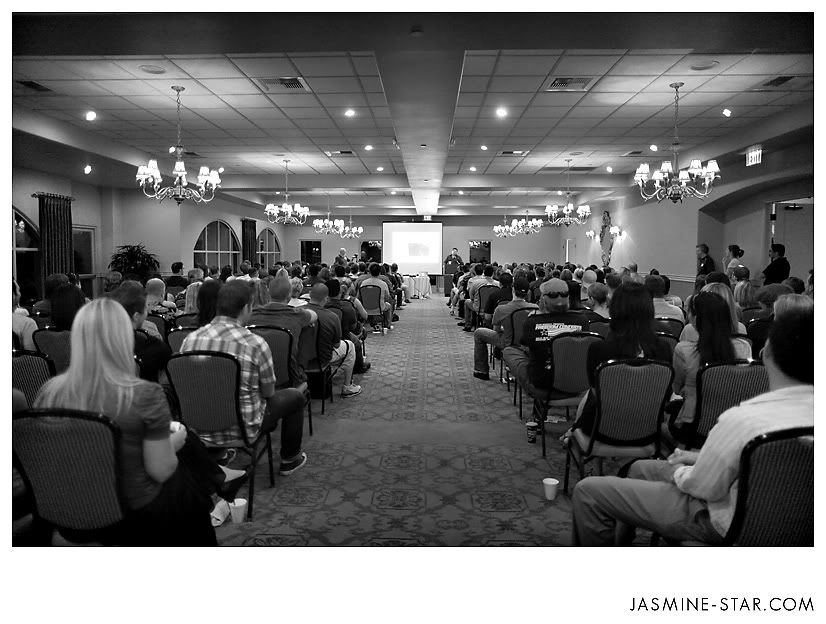 And [b]ecker himself :)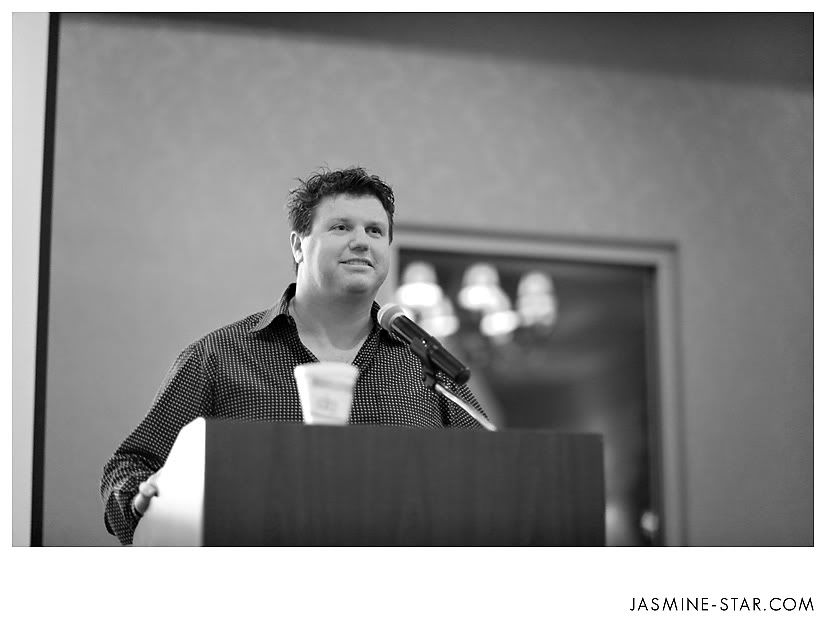 ***One more thing I'd like to add after checking out facebook and reading some of the comments on Jasmine's blog. If you are a new photographer... or don't consider yourself a professional but would like to be one day... I cannot stress enough how much you should push yourself out of your comfort zone and COME! Even if you come alone! I promise you will be so glad you did! This is an awesome community of people with great knowledge who are willing to share and give! Don't be intimidated, because every single one of us has sat where you are sitting. The single thing that has helped me grow the most is forcing myself out of my comfort zone and doing things that scare me! And if you do... tell me about it :) ***